Corrosion in most municipal sanitary sewers is limited to areas above the liquid level.  A more complete way to describe the process is one of "Simple Acidic Corrosion of Calcium Based Cement Binders by Microbially Generated Sulphuric Acid."
It can be reduced to 4 basic processes:
Biological reduction of sulfates to sulfides
Sulfides are soluble in the water – one of them, H2S can escape the water
Aerobic bacteria convert the H2S into dilute sulfuric acid
The acid simply dissolves the cement system
It is not sulfate attack or direct corrosion by H2S gas.  The gas will not readily combine with oxygen and water to form an acid.  There is a possibility that H2S in water can form an acid in the presence of certain ammonia compounds under rare circumstances.  H2S can directly corrode iron based metals and other metals like lead.
Sulphuric acid (H2SO4) is a stable liquid and can be had in any aqueous concentration from 0 to 100%.  Even very low concentrations produced liquids with very low pH and in turn cause severe corrosion to most metals and concrete.  Once the sulphuric acid is present the reaction that destroys concretes and mortars is simple:
Lime (CaO) Containing Minerals + Dilute Acid (H2SO4 + H2O)  ——————->   
Water + Various Calcium Sulfate compounds like (Gypsum CaSO4 . 2H2O)
The calcium sulfates are not formed well and offer no structural value.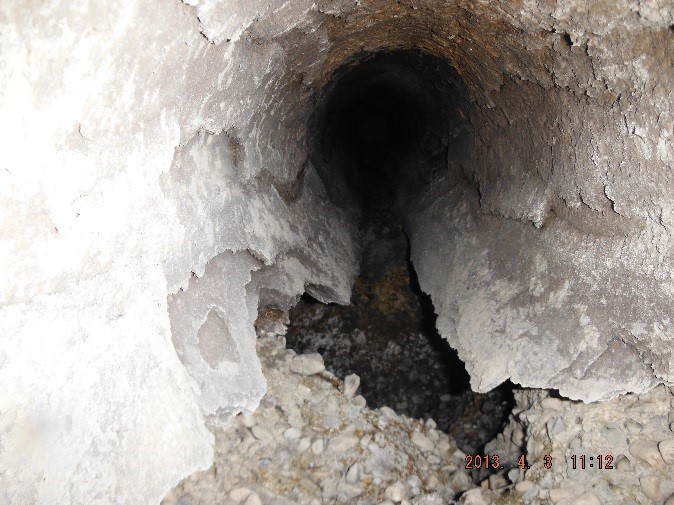 Other types of corrosion in sewers can occur.  Industrial sewers are notorious for having complex chemical problems that may require very special attention.  External corrosion can be caused by hot soils.  Storm sewers are another special case where there can be many types of corrosion / abrasion.  Corrosion in metal culverts can take place under stagnate soil deposits and classical MIC can develop where enough organic material is available such as with swampy areas.  This paper is limited to classical MIC issues above the water line in sanitary sewers.